Hikari 2021 Acme-X LED Bulbs
This is an all-new series of the Hikarl LED conversion kits. Hikari Acme-X are the newest LED bulbs that will replace the headlight and/or fog light bulbs and ensure wider driving vision, cool white light color and lasting service.

Technical characteristics
So, what is so special about the Acme-X LED bulbs by Hikari? They feature a brand-new Acme-X LED cree chip that features even more effective characteristics. Acme-X chips are brighter, even more durable and produce less heat than the other LED chips that were offered by Hikari before.
New LED chip features +400% brightness (compared to the regular car bulbs);
Color temperature is 'cool white' (6000K);
New LED bulb construction ensures wider and farther beam pattern which is safer for the night driving, since it allows for seeing clearer;
True all-in-one design ensures easy plug-and-play installation;
1:1 Design ensures perfect fit and exact replacement of the OEM headlight bulbs;
Square bottom of the Acme-X LED bulbs is 1.2 x 1.2 in.;
Lifespan of these LEDs is 50.000 hours of operation;
Powerful turbofan that is located on each bulb rotates at the speed of 12.000 rpm;
Smart cooling system of the Acme-X LEDs features the total of 40 aluminum heat sinks;
IP68 water resistance.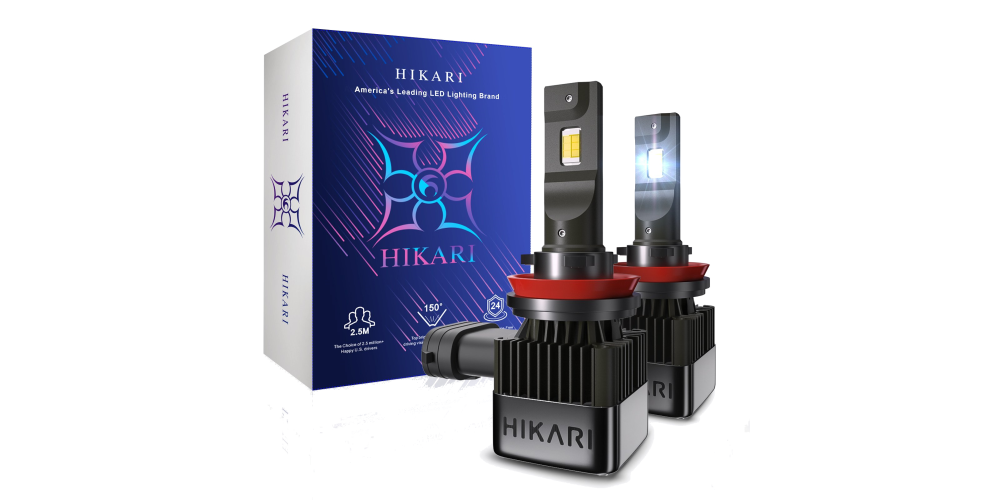 The Best LEDs You Can Get
Check Rating, Price & Availability of These Bulbs
What does all-in-one design mean?
All-in-one design means that the light bulb comes with everything in it, meaning you do not need an external LED driver. Note that the older versions of the LED headlight and fog light bulbs by Hikari also come equipped with the extra LED driver.
All-in-one construction is easier to install as you do not need to make any extra actions. Besides, the built-in driver consumes way less space in the headlight, which makes Acme-X 2021 LED headlight bulbs more convenient for usage in the newer headlight assemblies.
Acme-X LED bulbs feature 1:1 design
What does it mean for you? It means that the new LED bulbs by Hikari are a direct replacement for your factory halogen headlights. Acme-X headlight bulbs perfectly fit into the headlight housing, so you do not need to do anything special to get the new LED bulbs instead of the stock ones.
No cutting into the wires;
No mods to the headlight assembly;
No need to get an extra load resistor installed.
So, you are just getting an easy plug-and-play installation!
Besides, the Acme-X headlights feature 360-degree adjustable beam pattern. It is required to fit perfectly into the majority of the US-built vehicles (newer Dodge, Ram, Chevy, Ford, GMC).
What else do you need to know about the new 2021 LEDs by Hikari?
Acme-X are designed using the newest cutting-edge technologies and as of 2021 they are the most technically advanced aftermarket LEDs ever made. Because of the precise craftsmanship, Acme-X 2021 LED bulbs ensure the most accurate beam pattern. Cool white 6.000K light is very convenient for human eyes, so is very comfortable for night drive. Besides, better visibility makes your drive safer.
When it comes to night driving, NEW Hikari LED bulbs are not just about brightness, they are more about safety. Engineers at Hikari know that a little bit of light can make all the difference. So, Acme-X LED bulbs are 4 times brighter and provide 2 times farther beam. Advanced beam pattern ensures safety of the other drivers on the road. So once you install new 2021 LED bulbs by Hikari, you will see farther without blinding the oncoming traffic.
Advanced cooling system of the newest LED headlight bulbs by Hikari maximizes the lifespan of the bulbs and ensures excellent performance of all the components. Acme-X headlight bulbs last over 50.000 hours, which is 10 times longer, than the average industry standard.
H1
H4 (9003)
H7
H11 (H8, H9)
H13 (9008)
9004 (HB1)
9005 (HB3)
9006 (HB4)
9007 (HB5)
9012 (HIR2)

The Best LEDs You Can Get
Check Rating, Price & Availability of These Bulbs
We are sorry that this info was not useful for you!
Let us improve this info!
Tell us how we can improve this info?