Hikari 2023 Future
In the era of innovations, Hikari has come up with unique brand-new LED bulbs that combine innovative materials, technically advanced parts, and LED CREE chips, that produce clear white light. The Hikari 2023 Future series feature an innovative Titanova LED CREE chip, that features 65W of true light power. Hikari LEDs do not advertise inflated wattages, like some other manufacturers of less expensive LED headlight bulbs do. Every technical characteristic of the light bulbs by Hikari is proven by a series of real tests and is backed up with technical documents.
Meet the Advanced Titanova LED Chip
So, what do you need to know about the new Titanova LED CREE chip by Hikari? Let us start with a quick technical note. You probably know that light bulbs with wattages (over 65W) can put additional strain on your vehicle. As a result, you may notice the wiring getting hot, and in some time you will see that the car battery loses power faster. That's why, in order to offer extremely bright headlights that focus perfectly on the car headlight assemblies, Hikari installed completely new Titanova LED chips into 2023 Future series bulbs.
These chips easily handle large currents without burning out while producing light output. These light bulbs operate reliably and effectively. Titanova 7mm*4mm LEDs provide 10 times more light than a halogen bulb and 3 times as much light as an equivalent-sized LED chip!
Innovative Cooling System
You probably know that LED chips produce heat that has to be quickly eliminated, in order to prevent the light bulb and headlight from overheating. That's why the more influential the chip is, the more advanced cooling it requires. That's why Titanova LED bulbs feature an external cooling driver, for even more effective heat elimination.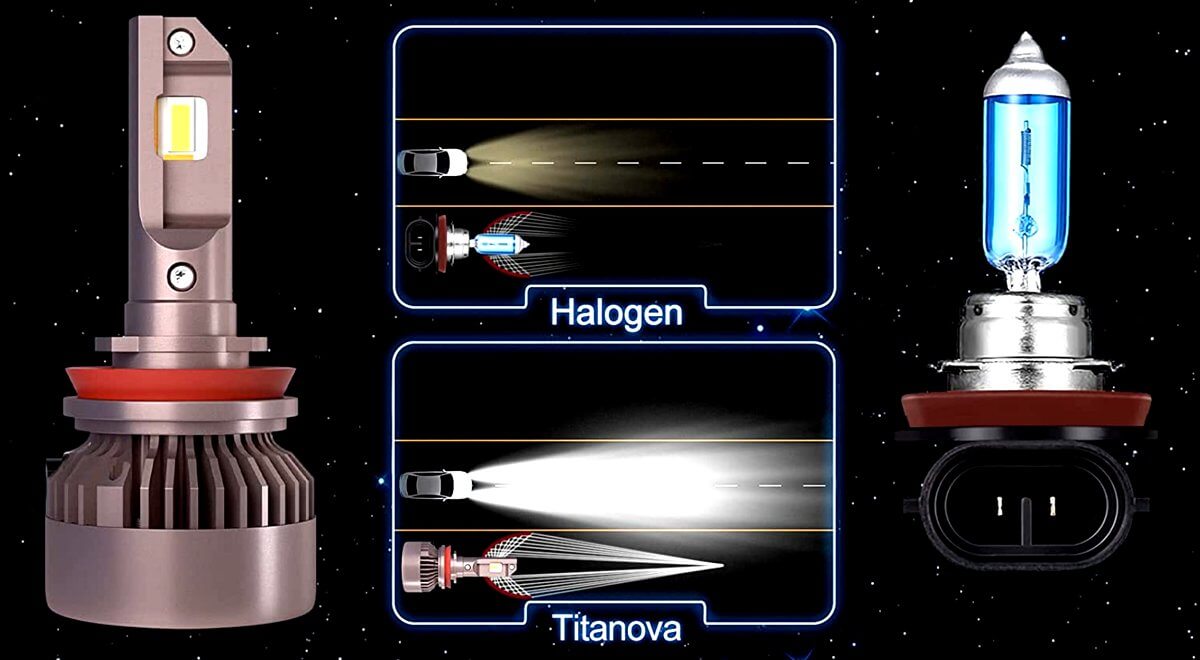 Besides, every bulb comes equipped with a pure copper plate that is designed for quick heat transfer. Plus, the cooling system employs a built-in liquid cooling copper tube as a part of the thermal conductivity system.
Customer Reviews
Here is how the cooling system works, when it comes to Hikari Future 2023 LED bulbs:
Heat is produced by the LED chip when the light bulb operates.
When this happens, heat is transferred to the copper plate.
Excessive heat is quickly moved to the liquid cooling copper tube, which transfers heat to the cooling unit.
The cooling driver receives heat delivered from the main copper plate and cooling tube and eliminates it by means of a turbofan.
When the bulb gets adequately cooled down and its components do not overheat, the light bulb operates longer.