Ultra LED Headlight Conversion Kit
If you are looking to upgrade the light output of your vehicle with the most upscale LED kit that will not break the band, Ultra LED conversion kit by Hikari is the way to go! Many car magazines noted, that this is one of the best LED conversion kits one may get for under $100. In fact, the price with shipping will be even lower.
Available in the majority of popular bulb sizes, these Hikari Ultra LED headlight bulbs are designed to work on the majority of popular American cars, trucks and SUVs.
Technical Characteristics
Top light output: 12000 Lm per bulb;
+270% brighter, than your stock headlight bulbs;
Hikari LED bulbs are backed up with limited 2-year warranty;
1 kit includes 2 bulbs, LED drivers, installation instructions and a warranty sheet;
Ultra thin heat sink eliminates excessive heat quickly and does not contain mechanical components that may wear out with time;
Vehicles manufactured after 2000 may require additional Hikari load resistors (sold separately).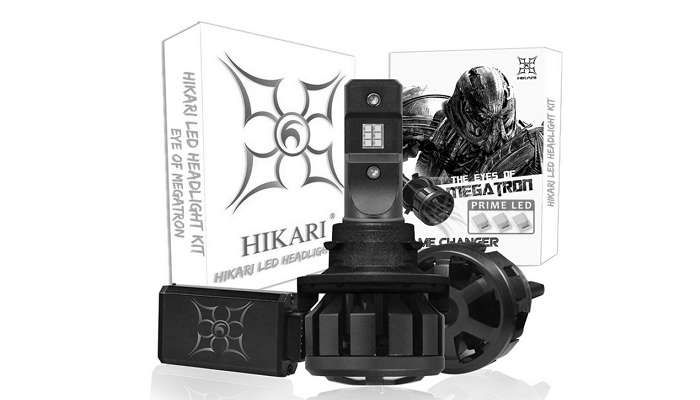 Access our store as a guest!
Hikari Ultra LED Conversion Kits: Bulb Sizes
The Ultra LED headlight bulbs by Hikari are available in different bulb sizes that are compatible with the majority of the most popular American vehicle applications. Check out the chart below to get access to the exact bulb size you need. If you are unsure about the bulb size, you can always refer to this bulb size checker to verify the proper bulb size for your vehicle.
| Single Beam | Dual Beam |
| --- | --- |
| H1 | 9003 / H4 |
| H7 | 9004 / HB1 |
| H11 | 9005 / HB3 |
| * | 9006 / HB4 |
| * | 9007 / HB5 |
| * | 9008 / H13 |
| * | 9012 / HIR2 |
Hikari Ultra LED Kit: Features
Flawless adjustable beam pattern ensures safe operation of the Hikari Ultra LEDs. It means that your headlights with these LEDs on will not produce that dangerous glare.In fact, this LED series bulbs by Hikari feature the most upscale beam pattern.
Lasting service and reliability. In average, Hikari Ultra LEDs last over 60.000 hours, while the best halogen headlight bulbs can boast working within 1.800 – 2.000 hours.
Hikari Ultra LED headlight bulbs do not contain fragile components. Unlike HID or halogen bulbs, these LED bulbs do not have that tiny capsule with gas or tungsten, so they are not likely to get easily damaged due to vibration caused by vehicle operation. The same story with the heat sink. Unlike the other LED bulbs, Hikari Ultra employ thin heat sink instead of the fan, which makes these bulbs more lasting.
Hikari Ultra LED bulbs contain thin heat sinks, that operate as cooling units. They eliminate heat produced by the headlight bulbs, but are small enough to be compatible with the majority of OEM duct covers of US cars, trucks and SUVs.
Note, that some newer vehicles may require extra load resistors for flawless and error-free operation of LED headlight bulbs. These resistors are not included into the kit and are shipped separately.
See special offers!
Keep browsing Hikari LED website to read more about lighting solutions!
Customer Reviews
Ultra LED Headlight Conversion Kit
Average rating:
7 reviews
May 31, 2019
I ordered a set of h13 LEDs off Amazon from you guys on April 11th. They work fine, though I have the resistor installed on both headlights
May 28, 2019
I purchase a LED conversion set of bulbs from Amazon on June 23, 2018. Have been enjoying bright bulbs since then!
May 21, 2019
I'm glad that I bought your bulbs. They are bright!

I got your H4 LED headlight bulbs after the research that I've done I have decided that I would like to purchase your brand's light. 
May 9, 2019
i got a ram 1500 2017. Installed your Hikari bulbs a week ago. Thanks for great instructions, installation was a breeze!
May 3, 2019
City, State:
San Francisco
 I purchased a set of H1 Megatron LEDs from Amazon. Great product, no flickering.
Jan 22, 2019
City, State:
Warrensville Heights, OH
The best kit I could find (based on Amazon reviews and 10carbest recommendation. Slim cooling thing fitted pretty easily into my lights.
Jan 9, 2019
I restored my headlights and wanted to upgrade lighting to do both within $100 budget. So I picked a Sylvania restoration kit and Hikari LEDs off Amazon. Recommend to everyone, who is looking for a cheap solution that will fix dull yellowish lights.