Hikari LED Headlight Bulbs & Conversion Kits
If you plan on replacing the factory halogen or incandescent bulbs with LEDs, it is always better to pick a quality product once and enjoy bright headlights at night. The LED technology itself allows generating clean white light, and the color output varies based on the temperature in K noted in the bulb description. In average, Hikari LEDs last over 30.000 hours, which is significantly more, than average incandescent or halogen bulbs.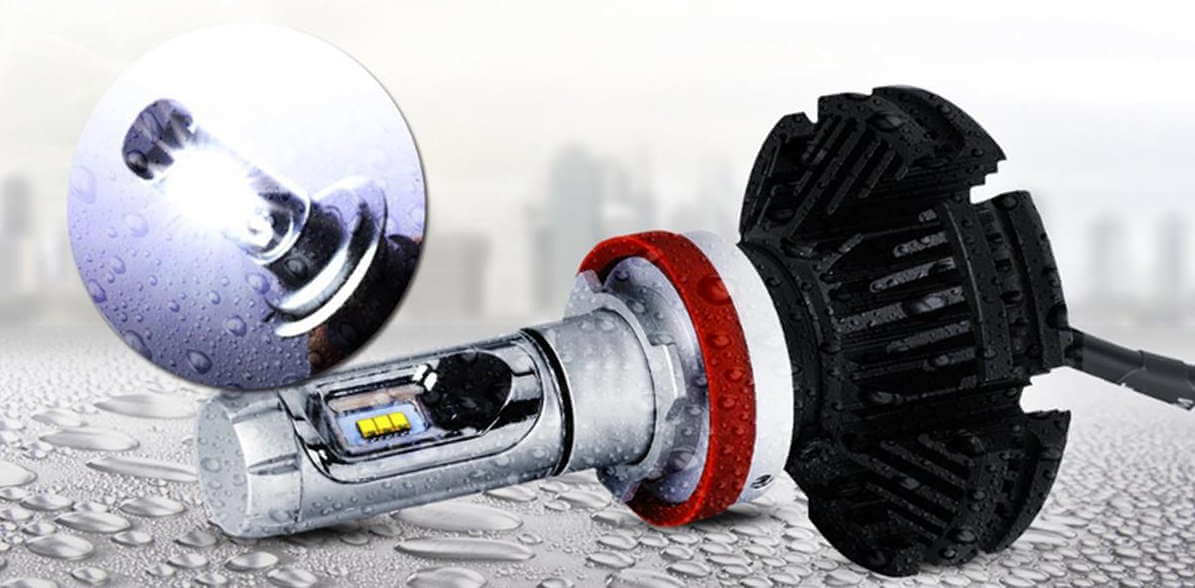 Besides, Hikari LED bulbs do not feature those fragile elements that may fail due to vibration or moisture. These factors make Hikari LEDs stand out from the rest.
5 Good Reasons to Buy Hikari LED Bulbs
Operating time - 30.000+ hours;
Prices start at $36.99;
Hikari uses quality Top CREE XHP50 LED elements;
Hikari LEDs are compatible with the majority of OEM headlights;
When adjusted properly, do not produce that dangerous glow.
Hikari LED headlights: Comparison
Hikari offers 3 popular LED headlight bulb solutions that meet different price expectations. Each of them will be safe to use, but different kinds of LED bulbs utilize different technologies that influence brightness, beam adjustability and performance. Check out the table below to see comparison of these 3 Hikari LEDs.
| Name | Basic LED kit | Top CREE | Prime LED |
| --- | --- | --- | --- |
| Max light output | 9600lm | 2546lm per LED | 12000lm |
| Warranty | 2 years | 2 years | 2 years |
| CAN bus module | sold separately | sold separately | sold separately |
| Cooling unit | Mini fans | Fans | Heat sink |
| Beam pattern | Adjustable | Adjustable | Precise pattern |
| Notes | Passed 300℉ 7 days temperature test | Uses Top CREE XHP50 leds | The first LED to be included in the list of Texas Transit Authority Procurement program (Sept 2018) |
| Price range | Most Affordable | Middle Price | Premium Option |
| Details | Check details | Check details | Check details |
Hikari LED Reviews
Feb 19, 2019
City, State:
Richmond, Virginia
I purchased this new on eBay. I researched a variety of headlight restoration kits available and decided to give this one a try as my headlights have become dim over the last several years from standard wear and tear (wind, rocks, sand, salt, cold, heat, direct sun uv ray exposure, etc.).

The kit is compact and has a balanced amount of information and graphics to make it easy to understand. The directions and the kit contents may seem a little overwhelming once you initially open the box, but once you read over the step by step directions and start going through the steps you will get a hang of it fairly quickly and before you know it be done with the restoration job. Also, you can slowly start to notice the headlights becoming more clear the more steps you complete (you need to complete all of them though).

Overall, the product did an excellent job and my headlights look very close to the original condition when I purchased the car brand new. Make sure to apply the final UV clear coat in a very smooth, evenly disbursed pattern so that you do not need to go back over prior spots as the chemical tends to dry exponentially faster after it has been applied. If you make a mistake applying the clear coat, quickly and smoothly apply a slight additional amount onto the fabric cloth included for this step and touch up (you can touch up, but do not go over the same spot multiple times or the bottom layer will dry). Everything worked out for me on the first attempt and I was very happy to get my car's light lens back to good as new condition.
Feb 16, 2019
A great way to restore yellowish lights! Reasonable cost, nice quality, fast shipping.
Feb 6, 2019
City, State:
Albany, Indiana
Vehicle:
2005 Jeep Liberty Limited
I have 2005 Jeep Liberty Limited and in grill fog lights started getting foggy. I had put off getting new ones due to the cost and the age of the Jeep. I finally had enough when I noticed that not only were they foggy but it look as if the coating was peeling/chipping.



After reading and watching several reviews I decided to get this kit. I have used other products that would last just a couple days to a week or two. This kit takes some time but it actually works. Due to the severity I had to use the activator and 400 grit twice but it was well worth it. I took before and after photos to attach to the review but unfortunately you cannot attach photos.



I feel the photos would help sale this product even more. I would highly recommend using this product and I will definitely use again if needed.
Jan 23, 2019
City, State:
Subaru Impreza
This kit is worth its money. I wish Hikari offered more bulb sizes for interior, tail lights, etc. WIll keep watching your product line.
Jan 22, 2019
City, State:
Warrensville Heights, OH
The best kit I could find (based on Amazon reviews and 10carbest recommendation. Slim cooling thing fitted pretty easily into my lights.
Page 1 of 5:
«
‹
1
2
3
4
5
›
»
Keep browsing Hikari LED official website to find out more about lighting solutions!