Hikari LED
Headlight Bulbs & Conversion Kits
Bulbs | Headlights | Kits | Reviews | Warranty | Q & A
If you plan on replacing the factory halogen or incandescent bulbs with LEDs, it is always better to pick a quality product once and enjoy bright headlights at night. The LED technology itself allows generating clean white light, and the color output varies based on the temperature in K noted in the bulb description. In average, Hikari LEDs last over 30.000 hours, which is significantly more, than average incandescent or halogen bulbs.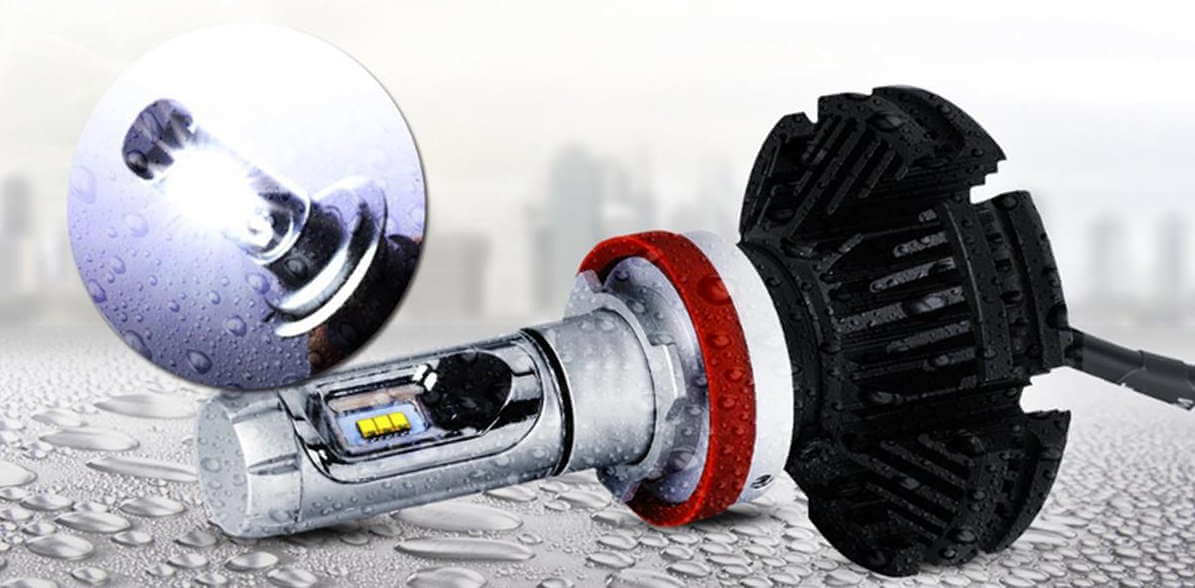 The Best LED Headlight You can Get
As a leader in the industry, HIKARI has always been committed to providing customers with high quality and reliable LED headlights.
Besides, Hikari LED bulbs do not feature those fragile elements that may fail due to vibration or moisture. These factors make Hikari LEDs stand out from the rest.
5 Good Reasons to Buy Hikari Bulbs
Operating time - 30.000+ hours;
Prices start at $36.99;
Hikari uses quality Top CREE XHP50 LED elements;
Hikari LEDs are compatible with the majority of OEM headlights;
When adjusted properly, do not produce that dangerous glow.
Hikari LED headlights: Comparison
Hikari offers 3 popular LED headlight bulb solutions that meet different price expectations. Each of them will be safe to use, but different kinds of LED bulbs utilize different technologies that influence brightness, beam adjustability and performance. Check out the table below to see comparison of these 3 Hikari LEDs.
| Name | Basic LED kit | Top CREE | Ultra LED | 2021 Acme-X |
| --- | --- | --- | --- | --- |
| Max light output | 9600lm | 2546lm per LED | 12000lm | 12000lm |
| Warranty | 2 years | 2 years | 2 years | 2 years |
| CAN bus module | sold separately | sold separately | sold separately | not required |
| Cooling unit | Mini fans | Fans | Heat sink | Advanced cooling system |
| Beam pattern | Adjustable | Adjustable | Precise pattern | Accurate beam pattern |
| Notes | Passed 300F 7 days temperature test | Uses Top CREE XHP50 leds | The first LED to be included in the list of Texas Transit Authority Procurement program (Sept 2018) | 1:1 halogen bulb design (these LEDs are exactly the same as the OE halogen bubs) |
| Price range | Most Affordable | Middle Price | Premium Option | Advanced Option |
| Details | Check details | Check details | Check details | Check details |
---
---

Customer Questions & Answers
How to adjust LED headlight bulbs?
What is the best brand of LED headlight bulbs?
2023 Customer Reviews
| | |
| --- | --- |
| Brightness | ★ ★ ★ ★ ★ |
| Longevity | ★ ★ ★ ★ ★ |
| Adjustability | ★ ★ ★ ★ |
| Easy to install | ★ ★ ★ ★ ★ |

Eric N. Freeman (City, State: Harahan, LA | Vehicle: 2016 Ford F-150) about Ultra LED Conversion Kit: I installed Hikari Ultra in aftermarket headlights (Spyder halo lights). I live the beam pattern and brightness! I believe leds for low beams should go as an option, as Spyder halogen bulbs are so poor..... thanks for help in adjustment.
---

Anastasia M. Husman (City, State: El Paso, TX | Vehicle: Chevy S-10) about Basic LED Conversion Kit: I have the cheapest Hikaris in my Chevy S10, and they rock! Easy installation, great price and old headlights are bright again!
---

Ralph P. Litton (City, State: Blanding, UT | Vehicle: Toyota Tacoma) about Basic LED Conversion Kit: I picked up these LEDs for my Tacoma, and they work just fine, way better than the stock ones. They are brighter and are not blue like Chinese LEDs from Amazon.
---

Frances Zucker (City, State: Jacksonville, FL | Vehicle: 2014 Volkswagen Golf) about Top CREE LED Headlight Conversion Kit: I bought this kit as I needed 2 things: better output and something that will withstand humidity and low winter temperatures here in Florida. That's why I googled what kits are waterproof and selected Hikari, as it's made in Japan. Now it's over a year on my Golf, no problems so far.
---

Brian (City, State: Houston | Vehicle: Ram) about Ultra LED Headlight Conversion Kit: I got a ram 1500 2017. Installed your Hikari bulbs (eye of Megatron) a week ago. Thanks for great instructions, the installation was a breeze!
---
LED Headlight Bulbs: Questions & Answers
Warranty & Support
Product Warranty: For warranty information about Hikari products, please click here.
Keep browsing Hikari LED official website to find out more about lighting solutions!
We are sorry that this info was not useful for you!
Let us improve this info!
Tell us how we can improve this info?