HIKARI 2022 HyperStar
If you are looking for the most upscale and technically advanced LED conversion kit, look no further than the HyperStar LED by Hikari. As of the beginning of 2022, this is the brightest and the most innovative LED in the whole Hikari lineup.
The brand is proud to announce that at the moment these are the most cutting-edge LED replacement bulbs that were ever made by them. The proprietary technologies allow delivering the brightest and the most accurate beam pattern. Besides, these LEDs perfectly adjust both in the OEM and in aftermarket headlights. A combination of these factors along with the premium materials and advanced technologies make Hikari HyperStar the best choice for better visibility.
Designed for Safe Night Driving
If you used to drive at night with regular OEM halogen bulbs, you know, that there are dark areas that are quite inconvenient. Hikari is aware of this problem, so they created a product that will outperform the regular bulbs both in brightness and in the beam pattern. Tests show that the Hikari HyperStar is six times as bright as traditional halogen bulbs. Plus, these LED headlight bulbs provide a broader beam pattern, which is excellent for those who drive in poorly lit areas.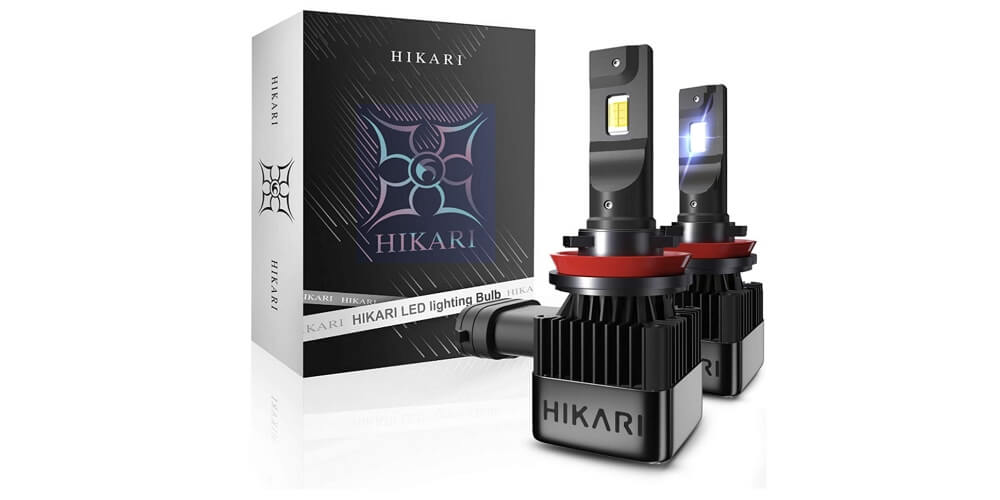 HIKARI 2022 HyperStar
Check Rating, Price & Availability
10 Things you Need to know about the new LED bulbs by Hikari
+600% brighter than halogen bulbs;
1:1 Design (the same length and dimensions as the OEM bulb);
+100% night driving vision;
No dangerous glare;
No dark spots;
IP68 waterproof (resistant to moisture, vibration, and temperature changes);
20.000 Lm brightness;
360 degrees adjustable bulb holder for precise adjustment;
Built-in CANbus module for error-free operation;
Advanced cooling system with dual turbofan rated at 15.000 RPM.
Technical Characteristics & Specs
This is one of the latest LED chips available in the Hikari LED lineup. 2022 Acme-X LED Chip. This LED chip provides a clear white light that is very close to the daylight, convenient for human eyes. Flux efficiency outperforms the previous generation of the Acme-X chip by 12 times. 1:1 headlight bulb design ensures adequate light distance ratio and driving vision barrier. Combining these factors effectively reduces the fatigue of the driver's eyes.
Advanced cooling system. The longer your LEDs last, the better your LEDs' lifespan. Hikari equipped their brand-new HyperStar bulbs with progressive dual turbo fans that rotate at the speed of 15.000 RPM. They found that these LEDs last over 60.000 hours, ten times longer than the average industry standard.
All-in-One design means the installation will be just plug-and-play. You do not need extra wires, connectors, resistors, or ballasts. Your new Hikari LED bulbs already come equipped with everything required for error-free operation.
HyperStar compared to the other Hikari LED bulbs
There are so many great products in the Hikari assortment, that it may be quite difficult to pick just one product. So, we've compiled a comparison chart to help you better understand the differences between the LED light bulbs.
Name
Brightness
Beam pattern
Light source
Driving visibility
Power consumption
Price
Prime ZES
18.000 Lm
Precisely focused beam
Prime ZES LED
500% brighter, than regular halogen bulb
32 W (Compared to 120W regular LED
CHECK PRICE
2022 Acme-X
20.000 Lm
Wider beam
Acme-X LED Chip
+100% Extra Night Vision
32W (Compared to 150W regular LED)
CHECK PRICE
TOP XHP 50.2
15.000 Lm
Wider beam
Top XHP50.2
+100% Extra Night Vision
30W (equivalent to 100W regular LED)
CHECK PRICE
Thunder
(Base)
12.000 Lm
Focused beam
Thunder LED chip
200% brighter, than regular halogen bulb
30W (equivalent to 80W regular LED)
CHECK PRICE

HIKARI 2022 HyperStar
Check Rating, Price & Availability
We are sorry that this info was not useful for you!
Let us improve this info!
Tell us how we can improve this info?