Hikari TOP XHP50.2
Meet brand-new LED bulbs by Hikari. Hikari TOP XHP50.2 is the newer and more advanced version of the Hikari TOP CREE that was introduced by the Japanese brand back in 2018. They are waterproof (IP68), resistant to vibration, very bright, and are a direct replacement for OE halogen light bulbs.

What does this mean for you? You no longer need to spend time hooking up an LED ballast (load resistor). These new Hikari LED bulbs install exactly like your factory halogen bulbs. Simple plug-and-play installation is the main benefit of these headlight LED bulbs, compared to the previous version.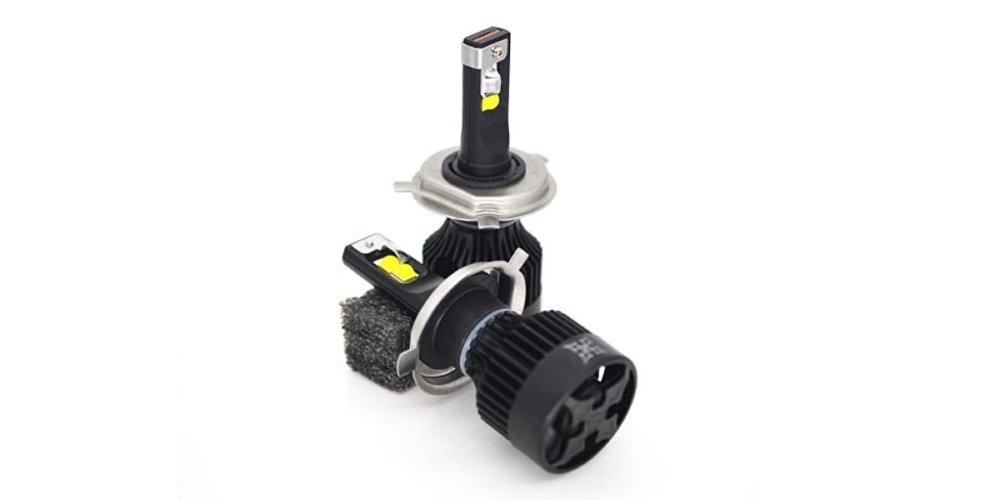 The Best LEDs You Can Get
Check Rating, Price & Availability of These Bulbs
Why Buy New Hikari LEDs
perfect for night driving: LED bulbs by Hikari provide more visibility, compared to the regular halogen headlights.
crystal clear light: convenient for night driving even in low-lighting levels.
high lumens performance: excellent upgrade for your vehicle. 1 bulb provides 5000 lumens, yet saves 90% of energy due to advanced LED technology.
wider beam pattern: compared to the previous version of XHP50.2 LED bulbs. New Hikari LED bulbs help you see what the other drivers don't, hence boost your safety.
lasts 500% more than the regular halogen bulbs due to resistance to moisture, vibration, advanced heat sink.
CANBUS compatible: new Hikari LEDs feature built-in CANBUS modules and do not throw errors on 95% of vehicles. So, they do not require an extra load resistor or canceller.
Features & Characteristics
◉ Advanced heat sink. Each XHP50.2 LED headlight bulb features 2 extra-thick heat sink copper plates, plus 32 heat sink fins. Such construction perfectly channels the heat that is generated by the LED chip. As a result, the headlight bulb lasts longer. No more temperature changes and the LED bulb remains at a touchable temperature
◉ Adjustable beam pattern. New Hikari TOP headlight bulbs feature advanced design, so the LED chip produces a perfectly focused beam without blinding the oncoming traffic.
◉ Safe & bright. LED headlight bulbs by Hikari are safe for the other drivers on the road. Besides, they are 500% brighter than the regular halogen or incandescent headlight bulbs.
◉ Error-free operation. 95% of US-built vehicles allow installing new Hikari LED bulbs just plug-and-play. No cutting, trimming or any other modification is required. Note, that some older European vehicles, however, may still require installation of a load resistor, that will eliminate flickering.
◉ IP67 Waterproof. LED headlight bulbs by Hikari feature advanced levels of protection against moisture. This feature makes them last much longer, since LED bulbs are resistant to vibration, moisture and temperature changes. Unlike regular bulbs, LEDs do not contain glass, tungsten or other fragile elements.

The Best LEDs You Can Get
Check Rating, Price & Availability of These Bulbs
What else do I need to know about new LED bulbs?
You will definitely find the right bulbs for your vehicle. Just check the bulb size you need and order the proper set. Note, that if you have aftermarket headlights, you may need the other bulb size. Aftermarket headlights usually require different bulbs, than the OE headlights. So, make sure you are ordering the right bulbs that will fit properly.
Advanced design of the Hikari TOP XHP50.2 LED is based on the principles of safety, durability and the latest technologies:
aluminum body: safe, lightweight and resistant to corrosion;
360 degrees adjustable beam pattern for precise headlight adjustment;
new advanced LED chip XHP50.2 is extremely powerful and durable;
extra thin copper sub-mount (just 0.06 inch) for easy installation.
We are sorry that this info was not useful for you!
Let us improve this info!
Tell us how we can improve this info?
---

Scott is a technical writer and consultant at Hikari-led.com. He is a fan of custom car lighting and is keen on all kinds of wiring jobs. We know him as a person who can make anything work!
Scott is enthusiastic about car mods and never misses a chance to learn something new, so you can meet him at SEMA and other car well-known US automotive events.
---