Trailer Light: Wiring & Specs
When you tow a trailer or another large object, it is important to make sure you are visible on the road. That's why there exist certain country-wide laws, that regulate trailer lighting specs one has to follow to make sure their vehicle is street-legal. If you are planning on towing something, make sure to check the correspondent laws and regulations to avoid safety hazard and getting a ticket from a police officer.
Trailer Light Types & Bulb Specs
Modern automotive aftermarket offers numerous solutions for trailers. So, you can find a trailer light that will work for the exact type of connector required for your truck. Today, American drivers prefer using these 3 types of bulbs in the trailer lights:
Incandescent bulbs are found in older trucks. As a rule, one can remove the back part of the assembly in order to replace the bulb when it burns out.
Halogen bulbs in trailer light assemblies usually last longer, than the regular incandescent bulbs. They also produce brighter light.
LED bulbs are installed in the modern trailer light assemblies and are significantly durable, than both halogen and incandescent bulbs. LEDs are resistant to vibration and moisture, and consume less energy.
Trailer Light Wiring: Technical Details
Trailer light is the lighting solution, that allows a trailer to be visible in darkness. As a rule, trailer lights do not operate independently from the truck, that's why it is important to wire the lights properly to ensure proper functioning. Trailer light wiring process depends on the truck specs and differs from vehicle to vehicle. In general, there are several most popular trailer wiring diagrams in America:
4-way trailer light wiring connector;
5-way trailer light wiring connector;
6-way trailer light wiring connector;
7-way trailer light wiring connector.
These types of wiring differ in options and in the wires that are involved. That's why when installing trailer lights, make sure to check out the function of every wire.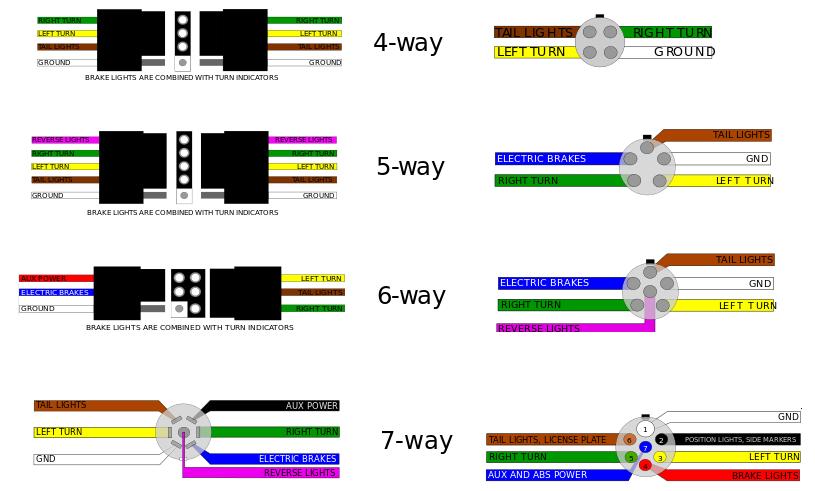 Check trailer light wiring diagrams for all connector types and detailed instructions on how to wire lights on a trailer at Bullyusa.com.