Hitch Mounted Mud Flaps
When something is towed, road debris, stones, and rocks flying from the wheels may hit the truck, trailer, or towable. Later, this causes visible damage, dings, scratches, and paint chips. Later on, this can lead to a decrease in the resale value of your investment and corrosion of the bare metal.
To prevent this, it is an excellent idea to protect the truck and towable by installing a set of hitch-mounted mud flaps. As a rule, the mud flaps that come with the car from the factory are not designed to protect something being towed. Instead, they work like a set of factory-installed splash guards that prevent dirt and slush from getting around.
Mud Flaps for Towing
When something is towed, the truck's rear axle gets more loaded than it does when you use your truck as a daily driver, so the vehicle sits lower and the ride height decreases. When selecting mud flaps for your truck, it is a good idea to consider an adjustment mud flap system.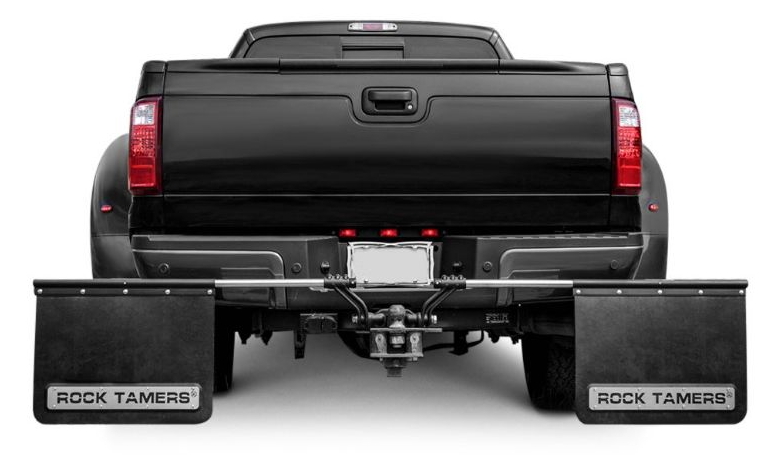 It will allow you to set up the mud flaps by the current truck height and change the setup when needed. That's why you may be interested in checking on adjustable mud flap systems by Rock Tamers. Here are some excellent reasons to think of them:
Rock Tamers mud flaps are adjustable, and it is possible to set up the height and width of the mud flap system.
Rock Tamers mud flap system can be installed and removed quickly enough.
You can always order spare parts when the original ones wear out.
You can install an extra mesh into the rubber part of your mud flap system to prevent the rubber from melting because of exhaust heat.
What mud flap system will fit my truck?
Rock Tamers does not offer vehicle-specific mud flap systems. There are only two types of mud flap systems Rock Tamers offer:
Mud flap systems for 2-inch hitch receivers;
Mud flap systems for 2.5-inch hitch receivers.
To determine, what must-flap system will fit your vehicle, just check what is the hitch receiver size of your truck and order the system that's specified to work with it.