Fan vs Fanless Led Headlights
Many car owners upgrade their factory headlights by swapping halogen bulbs to LED. These bulbs provide brighter lighting, form right beam in both projector and reflector headlights and last much longer, than regular halogen bulbs. The only drawback of the LED bulbs is excessive heat they produce. Hence, such bulbs come equipped with a cooling unit that allows reducing temperature. Modern LED bulbs for high and low beam upgrade feature fan or fanless construction. So, which bulbs are better? Let us consider pros and cons of both constructions, so that you could determine, which ones to consider for your vehicle.
LED headlight bulbs: operation temperature
To provide light output that is sufficient for forming quality light beam, LEDs use the light emitting diode itself and use a built-in microprocessor. Combination of these two elements produces excess heat that has to be eliminated to prevent melting. Yes, LED bulb features lower resistance, than halogen bulbs, yet it is the processor and powerful diode, that produce heat. So, such bulbs require a powerful cooling unit to operate.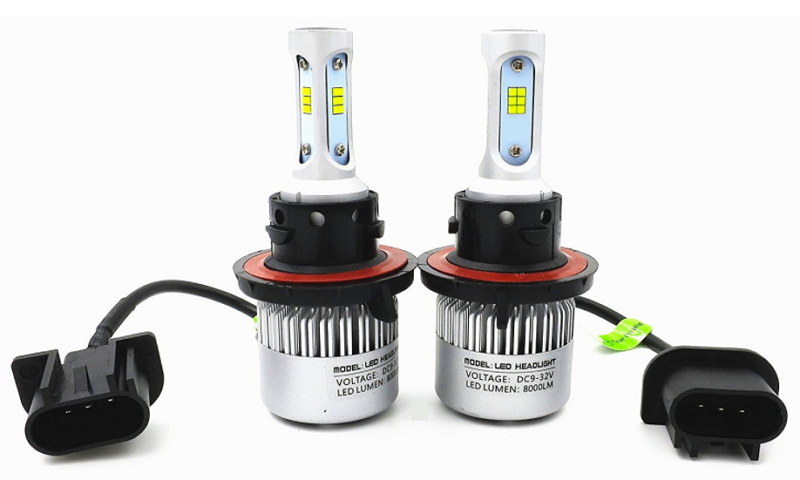 Fan vs Fanless LEDs: comparison & explanation
Leds that come equipped with fan use active cooling. It means that fan rotates and reduces heat. Yet some bulbs with active cooling units are made too big and cannot be normally fitted into the headlight assembly. Yet, there are slim fans that do not require a lot of space in a headlight.
LEDs with passive cooling, or fanless, feature either braided heat sinks, or get cooled by means of internal drivers. Internal driver cooling method is third generation of LED heat elimination. Fanless bulbs feature slimer filament, compared to the LEDs equipped with cooling fan.
Fan vs Fanless LED Bulbs: Pros & Cons
| # | FAN | FANLESS |
| --- | --- | --- |
| 1 | Quick heat elimination | Some filaments with fans are too large |
| 2 | Slim fanless LEDs don't require a lot of place | Fanless LED bulbs with braided heat sinks require checking the heat sinks condition from time to time |
| 3 | Do not require extra space | Noiseless operation |
| 4 | Do not come with external cooling units | Longer lifespan,compared to fan LEDs |
| 5 | Fan sometimes creates noise | Slim filament in quality LEDs |
| 6 | If the headlights are not sealed properly, fans may gather dust | Thermal resistance to drops |
| 7 | Fan may consume additional power | Fanless leds do not require extra maintenance |
Access Hikari store as a guest!
Best LED Headlights Bulbs
There are some things to consider, if you are selecting an LED headlight conversion kit for a pickup truck. More: https://bullyusa.com/best-led-bulbs-for-trucks.html